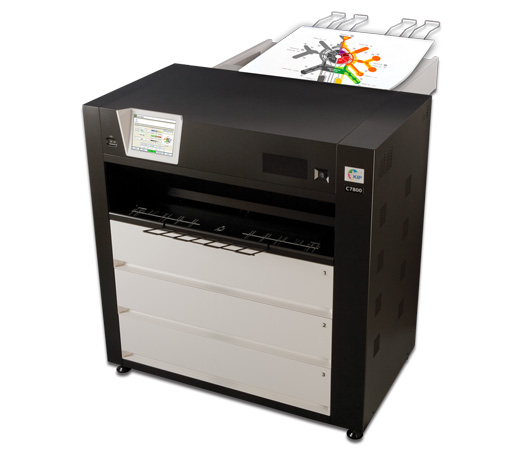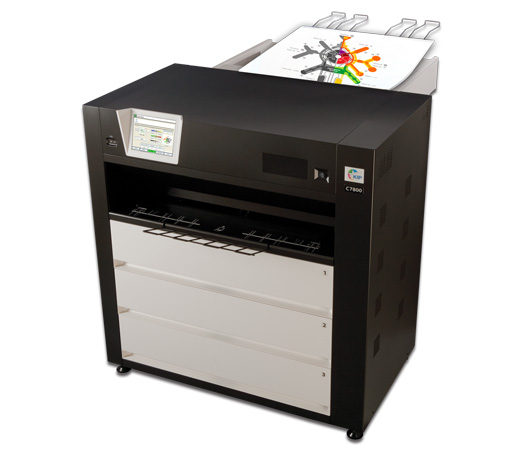 Copiers Spec – KIP C7800
Speed:

65 Pages Per Minute in B/W

First Copy Time:

3.7 Seconds

Document Feeder:

150 Pages

Standard Paper Capacity:

Dual 500 Sheet Paper Cassette Trays

Single 1,500 Sheet Paper Cassette Tray

Single 1,000 Sheet Paper Cassette Tray

Monthly Volume:

300,000 Impressions

Resolution:

600 x 600 dpi

Toner Yield:

55,000 Impressions Black

Dimensions:

(H x W x D) 45.5 x 25.5 x 31.5

Weight (Base Unit):

487.25 lbs

Power Requirements:

120V 16A
Have you been looking for a great bargain for the multitalented KIP C7800 wide-format printer for your business? Good, that means you are in the correct place. Arizona Copiers presents the widest collection of KIP models in the entire state of Arizona, conveniently in our inventory. Whether you want to buy, lease, or rent the printer, we will work side by side with you to offer the greatest solution possible for your growing business. Our experienced company is dedicated to exceptional customer service; we are not satisfied unless you are completely happy with your purchasing experience. Please contact one of our welcoming representatives today at 602-428-5885 for answers to all your questions about our KIP models, or to receive your amazing quote immediately.
Special KIP C7800 Features
Considered a breakthrough in the industry, the KIP C7800 monochrome and color printer is a revolutionary unit that takes wide-format printing to a whole new level. It is ideal for businesses seeking to create superior quality architectural, construction, or engineering plans, as well as signs, posters, or maps. The unique LED printing design with four separate LED imagine heads enables outstanding 600×2400 dpi resolution with each production. Its improved toner application also accomplishes extraordinarily crisp and accurate image details for all of your output. The high-speed printing also wastes no time, producing 3,500 square feet per hour in color and 4,200 square feet per hour in black and white. The KIP model includes an integrated scanner for pixel-perfect copying and scanning at high-quality resolution as well.
Furthermore, the KIP C7800 from Arizona Copier boasts three separate embedded auto-loading media roll drawers that are certain to provide ultra-quick switching between rolls for streamlined workflow. The fully integrated stacking systems also enables businesses a convenient place to stack multiple prints, while the automated folding and finishing systems combines several unique finishing functions all in this one convenient unit. Although this high-tech machine is outfitted with a range of excellent features, it does not require extensive training for personnel members. The large touch screen gives instant access to all system functions easily to create the most simple wide-format printing available. With a touch of a finger, you can access printing, scanning, and copying options from multiple sources. The tremendous speed and accuracy of this powerhouse KIP model is exactly what you have been waiting for in a wide-format color printer!
Buy, Rent, or Lease Your Own KIP C7800 Today!
The Arizona Copier company is your greatest resource for accomplishing all of your printing and copying goals in the Valley of the Sun area. Our wide array of purchasing options allows you to customize your buying experience to fulfill your financial budget and business' wide-format printing needs. We are thoroughly committed to helping you discover the most cost-effective prices and investment protection with our industry-leading warranties. With our speedy delivery service, you will get your hands on the KIP C7800 printer in no time. Boost your business productivity by calling 602-428-5885 today and getting started to realizing all of these amazing features at the best value possible!