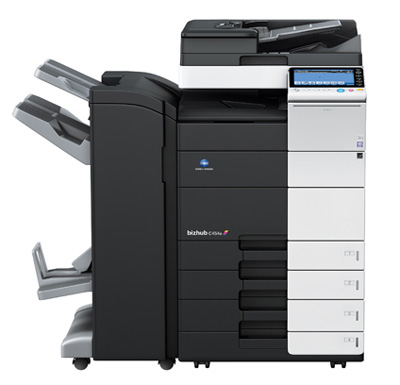 Copiers Spec – Konica Minolta Bizhub C454
Speed:

45 Pages Per Minute in B/W
45 Pages Per Minute in Color

First Copy Time:

5.5 Seconds in Color
4.6 Seconds in B/W

Document Feeder:

100 Pages

Standard Paper Capacity:

Dual 500 Sheet Paper Cassette Tray

Monthly Volume:

150,000 Impressions

Resolution:

1200 x 1200 dpi

Toner Yield:

27,500 Impressions in B/W
26,000 Impressions in Color

Dimensions:

(H x W x D) 31 x 24 x 27

Weight (Base Unit):

221 lbs

Power Requirements:

120V 16A
Konica Minolta Bizhub C454
Are you searching for a Konica Minolta Bizhub C454 to help streamline your business' workflow and boost your productivity? Perfect, then you are in just the right place. Arizona Copiers has a wide collection of these premium multifunction copiers that will satisfy all of your business needs and your budget. As the number one source for copiers, we strive to provide all of our customers with whatever configurations or customizations you may need. Please feel free to contact us at 602-428-5885 today to receive your amazing discounted quote.
Konica Minolta Bizhub C454 Special Features
Specifically engineered for large businesses in mind, the Bizhub C454 can handle high-volume document traffic like no other machine. It comes with an outstandingly fast output printing speed of 45 pages per minute in color or black and white. The built-in Emperon print system has a universal print driver that allows for cross-platform productivity too. In addition, the copier is able to copy documents and images in 5.5 seconds in color, or 4.6 seconds in black and white. The single-pass dual scanner can even handle scanning up to 160 originals every minute for fast efficiency!
One of the most common complaints about copiers is wasting time fiddling to replace the toner cartridges and paper supply. Well, the Konica Minolta Bizhub C454 provides a long break between these hassles with its humongous 6,650-sheet capacity and its standard 250 GB hard disk drive. Depending on your document traffic, you could potentially go months without having to refill the machine with paper. The toners also yield an amazing 27,500 impressions in black and white, as well as 26,000 additional impressions in color. Not only will your business save time and money with replacements, you will also reduce your carbon footprint. The Simitri HD toners with biomass help to lower the amount of environmental impact from the product.
When you buy or lease a Konica Minolta C454 with Arizona Copiers, you also receive the endless possibilities of the brand's leading technology features. The rather large 9-inch color display touch screen on the copier is easy to use, with a simple touch and swipe motion that will be a breeze for anyone that owns a smart phone. Furthermore, businesses will benefit from the Bizhub Extended Solution Technology system, which allows for the seamless download of special applications to the copier. Software can be customized to meet all of your business needs, whether you are in finance, legal, education, healthcare, or other professions. With this unique design, your business will benefit from a wealth of information right at your fingertips.
Buy, Lease, or Rent a Konica Minolta Bizhub C454 Today!
Undoubtedly, your business will fall instantly in love with the Konica Minolta Bizhub C454 offered by one of the leading copier manufacturers in the world. When you choose Arizona Copiers, you are doing business with an experienced and well-established industry member. From copier rentals to leases and sales, we guarantee that you will never find a better company for high-quality products and top-notch customer service. Call us today at 602-428-5885 to begin the process of obtaining your own Konica Minolta C454 and watching your business grow.