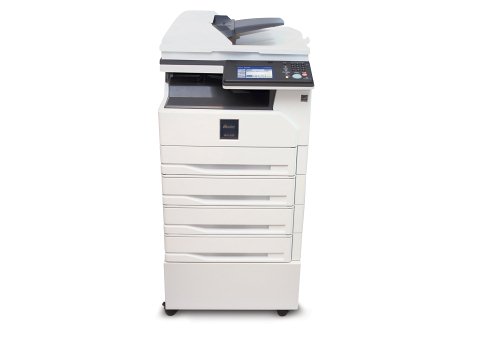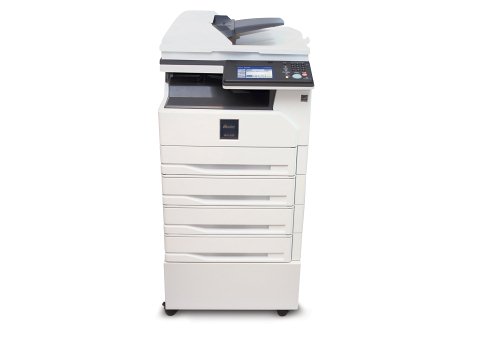 Copiers Spec – Muratec MFX-3530
Speed:

65 Pages Per Minute in B/W

First Copy Time:

3.7 Seconds

Document Feeder:

150 Pages

Standard Paper Capacity:

Dual 500 Sheet Paper Cassette Trays
Single 1,500 Sheet Paper Cassette Tray
Single 1,000 Sheet Paper Cassette Tray

Monthly Volume:

300,000 Impressions

Resolution:

600 x 600 dpi

Toner Yield:

55,000 Impressions Black

Dimensions:

(H x W x D) 45.5 x 25.5 x 31.5

Weight (Base Unit):

487.25 lbs

Power Requirements:

120V 16A
Are you looking to buy, rent, or lease a Muratec MFX-3530 multifunction printer to assist your growing business at a great bargain? Well, you have come to the perfect place. Arizona Copiers specializes in the highest quality copiers available in the market. Therefore, when you purchase a printer from us, you can count on receive a machine in perfect working condition that will boost your business' productivity and provide years of service to your office. We make buying a copier in Arizona easy, with our large service area across the Valley of the Sun from Glendale to Gilbert. Please get in touch with us today at 602-428-5885 to learn more about our services and receive a discounted quote for your printer.
Introduction to the Muratec MFX-3530 Special Features
The Muratec MFX-3530 enables your office to work smarter with this amazingly powerful monochrome multifunction printer. It provides the ideal assistance your office needs to digitally capture, manage, and distribute important information more proficiently. The unit boasts fast printing and copying output speeds of 37 pages per minute, with a 5 second first copy out time. The technology of this exceptional printer transforms the document workflow process through a very user-friendly interface. This Muratec model features a 5.8-inch touch screen that allows every user the ability to create custom screens for instant access to their preferred settings and contacts with a simple swipe of the finger.
Not only will you receive a cost-effective price at Arizona Copier, the Muratec MFX-3530 also will help your business lower printing costs dramatically. The high-yield imaging toner cartridges reduce the necessity to frequently replace them and diminish your ongoing printing costs. The Muratec model also features duplex printing, toner saving modes, EcoMode, and multi-up printing options that can significantly lower toner, paper, and energy consumption. Gain control of your document operating costs and lessen your carbon footprint on the environment at the same time!
The MFX-3530 is capable of converting your paper documents to smart digital files in seconds, which can then be stored on a PC or Mac computer, faxed, e-mailed to contacts, or transferred to another storage system in your business' cloud. Build intelligent documents by including instructions that can allow it to automatically archive into its intended destination for streamlined management. Even better, this printer is ideal for growing businesses that need user flexibility. With the Muratec MFX-3530, your business can easily add up to 100 new users for scanning, printing, or general use in a flash.
Get Your Own Muratec MFX-3530 Multifunction Printer Today!
At Arizona Copier, we pride ourselves on providing our loyal customers with exceptional service and support throughout the purchasing experience and beyond. Whether you are buying, renting, or leasing the printer, we will ensure that all of your business' needs and financial budget requirements are satisfied. Call 602-428-5885 today to speak with one of our knowledgeable sales representatives that are eager to assist you with your selection and purchase. We look forward to hearing from you, and helping you realize these tremendous features from the Muratec MFX-3530!