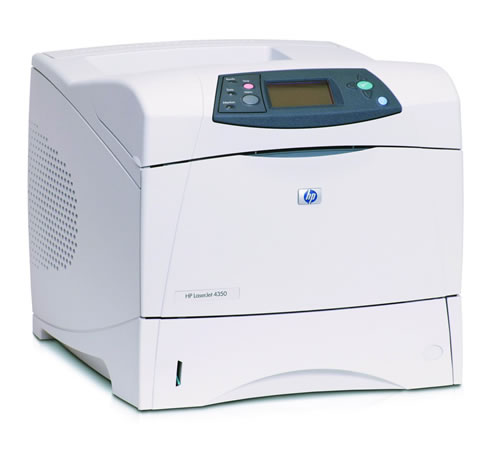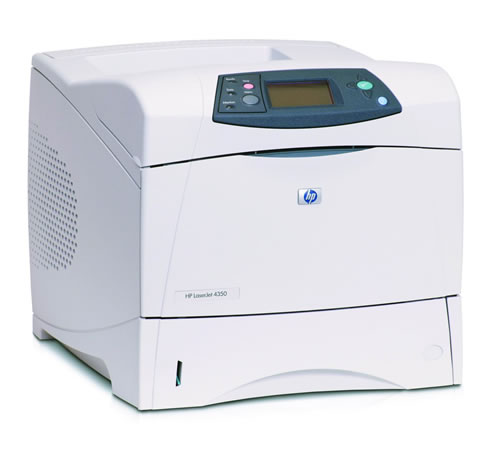 Copiers Spec – HP Laserjet 4350n
Speed:

65 Pages Per Minute in B/W

First Copy Time:

3.7 Seconds

Document Feeder:

150 Pages

Standard Paper Capacity:

Dual 500 Sheet Paper Cassette Trays
Single 1,500 Sheet Paper Cassette Tray
Single 1,000 Sheet Paper Cassette Tray

Monthly Volume:

300,000 Impressions

Resolution:

600 x 600 dpi

Toner Yield:

55,000 Impressions Black

Dimensions:

(H x W x D) 45.5 x 25.5 x 31.5

Weight (Base Unit):

487.25 lbs

Power Requirements:

120V 16A
Are you looking for a HP Laserjet 4350n laser printer to boost your business' growth and productivity? Well, look no further because Arizona Copiers has the widest selection of the best Hewlett Packard models in the state. With our reasonable discounts, we will be able to help you obtain this high-quality printer to streamline your workforce at the most cost-effective price on the market. When you select our company, you are welcomed into a professional network that can assist in all your future copying needs with exceptional customer service, top-notch repair services, and a variety of office supplies. Our leading-industry warranty will also provide unparalleled protection on your newest investment. Please contact us at 602-428-5885 for more information and your free quote today.
HP Laserjet 4350n Special Features
When your business is faced with tight deadlines, you need a printer that can keep up with your workload and provide high-performance. The HP Laserjet 4350n powerhouse offers fast print speeds up to 55 pages per minute, with exceptionally crisp attention to detail. Maximize your business' productivity with this reliable printer that can produce first copies in less than eight seconds. The machine is always ready to go when you are, since the printer is equipped with the instant-on technology for printing without wait time.
If you purchase, rent, or lease this Hewlett Packard model from Arizona Copier, your business will enjoy a variety of unique customizations to fit your business preferences. The scalable options enable your business to increase maximum input capacity to an amazing 3,100 sheets, with another additional 1,500-sheet input tray. The versatile design of the model supports automatic two-sided printing and a range of finishing options, such stacking, sorting, or stapling. The innovative HP smart printing technology and advanced toner cartridges enhance print quality with accurate control and placement of every document.
The Hewlett Packard model is outfitted with a robust 460 MHz processor and 80 to 96 MB of memory for even the most complex of print jobs. The Jetdirect Fast Ethernet print server and reliable high-speed USB ports enable quick and accurate delivering for sharing all your documents with your network in a breeze. The two embedded compact flash slots also allow users to install third-party software to optimize copying and printing capabilities. Your business can take advantage of more font choices, secure printing, bar code printing, and job accounting solutions right at your fingertips.
Why the HP Laserjet 4350n is the Right Choice
The Hewlett Packard brand is known for consistently offering breakthrough technology, with its long legacy of creating the world's first desktop laser printers and continual improvements. Whether your business is small or growing larger, it is ideal to have a dependable printer that you can count on to service your office community. When you purchase a HP Laserjet 4350n from Arizona Copier, you will discover the best that HP has to offer and realize the tremendous benefits for your business. Please do not hesitate to call us today at 602-428-5885 to get started!