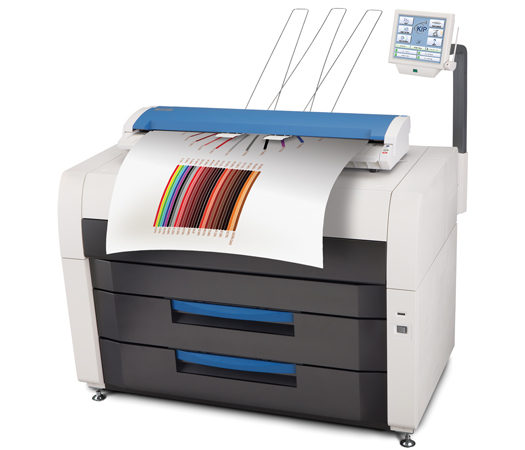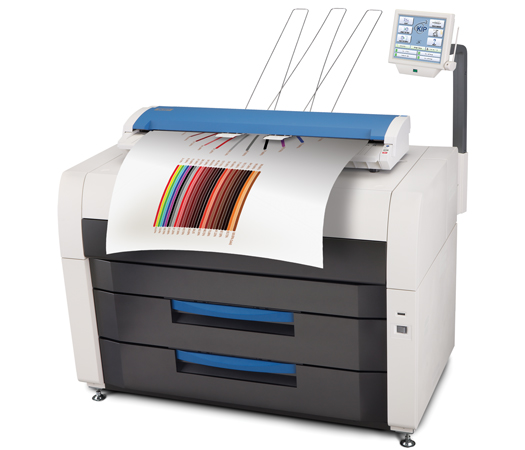 Copiers Spec – KIP 7700
Speed:

65 Pages Per Minute in B/W

First Copy Time:

3.7 Seconds

Document Feeder:

150 Pages

Standard Paper Capacity:

Dual 500 Sheet Paper Cassette TraysSingle 1,500 Sheet Paper Cassette Tray

Single 1,000 Sheet Paper Cassette Tray

Monthly Volume:

300,000 Impressions

Resolution:

600 x 600 dpi

Toner Yield:

55,000 Impressions Black

Dimensions:

(H x W x D) 45.5 x 25.5 x 31.5

Weight (Base Unit):

487.25 lbs

Power Requirements:

120V 16A
Are you searching for a versatile and reliable KIP 7700 wide-format printer for your business at a great bargain? Well, you have come to the perfect place. Arizona Copiers offers the widest selection of KIP models in the entire state. Whatever configuration or customizations you require, we will work with you to provide the best solution possible from our large high-quality inventory. In addition, your business will benefit from a long-lasting network for all supplies, repairs, or assistance you may need later on. We encourage you to contact one of our friendly representatives at 602-428-5885 with any questions you have and receive your amazing discounted quote.
Special KIP 7700 Features
With the versatile system configurations of the KIP 7700, the multiple components of this printer can be tailored to suit all of your business needs for wide-format printing. The compact footprint saves your work environment valuable space as well. This KIP model boasts a high-speed print output of 3,240 square feet per hour, which translates to 9 "D" size prints every minute. The impressive 600×1200 dpi print resolution enables sharp image detail, crisp text, and clean fine lines with each print. The wide-format printer also includes an embedded cut-sheet bypass feeder that provides uniform sheet cutting across your entire production. Not only will your business experience a boost in productivity with the fast speed, you will benefit from an increased quality in all of your output.
When you purchase the KIP 7700 wide-format printer from Arizona Copier, your business will be able to immediately start use with very minimal training prior. The large color display touch screen features on-screen user manuals and step-by-step instructions for simple navigation and ease of use. Avoid the frustration and hassle of learning a complex new machine with this compact and user-friendly KIP model. Also, the two media decks both are specifically designed for quick changes with end-cap loading of large 500-foot media rolls efficiently.
The KIP 700 multifunction system already comes with tons of installed software features to expand its capabilities and meet all of your business' needs. The PDF printing systems allows wide-format printing of PDF files, as well as optional document folding and stacking options. The scanner enables convenient and cost-effective scanning with flexibility and speed. The KIP Color Pro software comes with advanced copying and scanning features for operation on any popular operating system.
Buy, Rent, or Lease Your Own KIP 7700 Today!
For all of your printing and copying needs in the Valley of the Sun metropolitan area, Arizona Copier is your number one resource. With our wide array of purchasing options, you can find the best solution for getting your hands on the incredible KIP 700 wide-format printer immediately without breaking your bank account. We are dedicated to helping businesses discover the best bargains in the industry, and protecting your investment with top-notch warranty deals. Get started in obtaining your own KIP 700 printer to boost your business growth by calling 602-428-5885 today. We look forward to hearing from you!