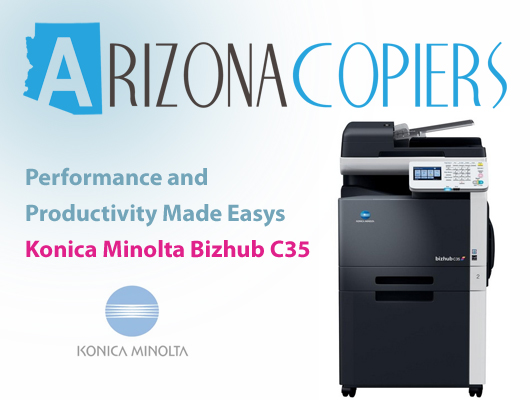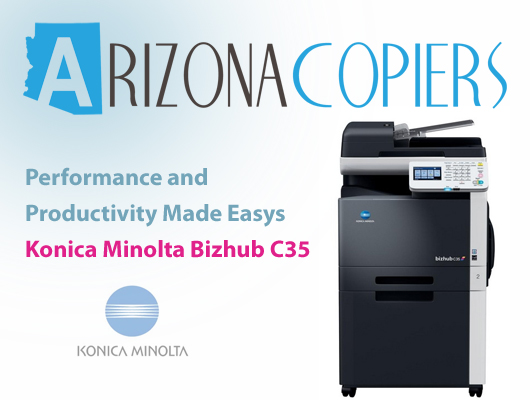 High volume, multi-function printer copiers are available with the Konica Minolta Bizhub C35. Office machines through Arizona Color Copiers are used to enhance standard business systems and can provide effective solutions to drive modern businesses. A multiple use copier includes several additional features that are critical for any standard business production. A business hub office machine gives the company the flexibility needed as the business grows.
Konica Minolta Bizhub C35 has certain unique features that are critical for small business
The Konica Minolta Bizhub C35 has a color multi-function laser printer that gives a crisp and clear printed image for a professional presentation.
This copier combination is able to move documents faster and more efficiently than most machines of its size.
The Konica Minolta Bizhub C35 has a compact size of 550mm in height. The compact size allows this office addition to fit almost anywhere on any table. The smaller size of machine gives this business hub a mobile element as well.
The machine has an A4 MFP performance and productivity that is similar to an A3 color MFP. The smaller machine has the same printer size as the larger one.
The design is all in one with the included essential elements needed for a larger MFP machine in the smaller edition as well.
The Konica Minolta Bizhub C35 has outstanding productivity with an enhanced efficiency and high speed delivery output. This machine delivers 100% productivity for duplex printing and other assignments and can be found at Arizona Copiers.
The overview performance of the Konica Minolta Bizhub C35 includes:
High quality documents for business presentations and a high level output and consistency with more complex business assignments. This machine has an enhanced integration with other high end business hub type systems. There are a variety of authentication systems, and the security features for this machine are state of the art. The security is reliable and has a high level networking capacity that is comparable to any of the copiers on the market. This multiple tasking machine can be ordered through Arizona Color Copiers.
Konica Minolta Bizhub C35 goes mobile
Mobile connectivity is available as well. This office hub machine is capable of printing, scanning, saving information for storage transmission, faxing, ordering, and operating with a wireless capacity. The business hub can be connected to an iPhone, iPad, and iPod touch system. It has a reverse automatic document feeder as well and can perform duplex printing.
The Konica Minolta business system has multiple functions that are critical for any small business office. The business hub features include mobile connectivity that can integrate with additional business systems that are high end in functioning. This multiple business machine is compact and can be used in various counter locations. The copying is digital and is comparable to any competitive system. Business executives and owners often choose the multi-tasking Konica Minolta Bizhub C35 machine for its versatility and quality of professional document output.